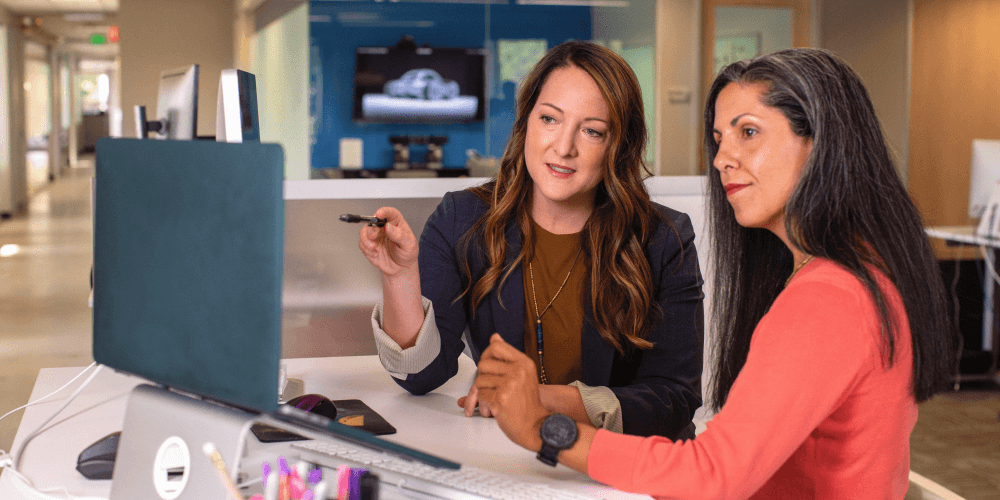 The demand for talent is at an all-time high, and almost every recruiter and employer use LinkedIn to find and hire the right candidates.
It's no wonder then that LinkedIn was one of the 10 fastest growing social media platforms in 2022, according to Pew Research Center. With over 800 million users, LinkedIn is the go-to platform for any professional looking to connect, get hired, or find talent. And that is why your LinkedIn profile is an essential part of networking, job search, and helping you stand out among your peers. It can also act as a first impression to a potential employer.
So, what does your LinkedIn profile say about you? And when was the last time you updated it? Here are a few tips for getting you started on enhancing your LinkedIn profile to make sure you get noticed.
1. Fill out your profile completely
Any blank space on your LinkedIn is a missed opportunity to present yourself and your skillsets (or skills). Even a couple of sentences in your About section, for example, can go a long way in giving a potential employer a better sense of who you are. The same goes for keywords in your headline, job description, skills, etc.
2. Professional Profile Picture
It should go without saying that having a profile photo is an essential part of making a first impression on LinkedIn. It should clearly show you as a professional in your chosen field. Try a natural smile, looking at the camera– as you would when introducing yourself to someone in person at a job. The higher the photo quality, the better. A professional headshot can go a long way.
While a wedding photo or picture on vacation might be a good choice for Facebook or Instagram, they are likely not a good choice for LinkedIn. You should only be in the attire you would consider wearing to an interview or on your first day. The same thing applies to your background. You want something neutral that doesn't distract from you. No beaches or larger groups behind you. If you choose a wall or window, remember to take a couple steps away, so it's not too close to the back of your head. 
A good rule of thumb is to update it every 5 or so years. If you have any dramatic changes in appearance (i.e.a new haircut or color), that may be a good time to consider an update. You want a picture to look good and look like you, so people recognize you after seeing it. 
3. Search Optimized Headline
| | |
| --- | --- |
| Your headline is the most influential element for showing up in a LinkedIn search. The keywords you put in your headline should describe you using words that a recruiter would search for. In other words, what you put in your headline will allow recruiters to find your profile. Use any relevant, industry-specific terms and possible variations (e.g., include a written-out term and its acronym) while also minding the 220-character limit. Some experts recommend using dividing lines (like | or -) between your keywords/keyphrases. |
If you have the space, add additional context to your professional experience; even terms as generic as "Team Player" or "Pediatric Experience" can help you pop up in more searches – just make sure they're accurate and specific to you. 
| | | | | | | |
| --- | --- | --- | --- | --- | --- | --- |
| For example, "Hearing Aid Specialist at ABC Hospital | Hearing Instrument Specialist (HIS) | Hearing Health Professional | Patient Advocate | Healthcare Professional | Passionate Team Player | Private Practice Hearing Health Assistant." |
The terms you put in your headline should form a clear, concise image of who you are and what you do as a professional. 
| | |
| --- | --- |
| Remember to always leave space two between keyphrases and dividing lines (phrase SPACE | SPACE phrase) |
4. Tell Your Story - About Section
The About section is a wonderful opportunity to share your background, education, experience, skills, and goals exactly how you want to present them. This is where you get to tell your story. You might even show off a little personality or great writing skills in the process! 
Almost every job will require specific education and certifications in the hearing health field. While it's always great to lay out your personal history and goals moving forward, ensure that your required certifications and skills are clear and easy to find. You can summarize your experience chronologically; I worked at ABC Practice before moving to XYZ Hospital and recently at Fancy ENT. Or you can lay out your story around your skills; I have worked as a HIS fitting patient at ABC Practice and Fancy ENT. I also assisted with testing at XYZ Hospital and Fancy ENT. 
Once you've checked those boxes, it never hurts to expand on why you chose/love your field and the difference you want to make. Even including a fun fact about you can help you stick in people's minds. Ex. I have lived in 15 different states, or I have 6 dogs. Show a little of who you are but remember to think about how this might influence someone's first impression.
5. Complete Job Descriptions & Experience
| | |
| --- | --- |
| Listing your most recent work experience and including relevant information is a must, but it is also essential to have all your past experiences to show growth in your career and work history. Pay special attention to your "job title" here, as sometimes a company's name or title for a given role can be misleading or vague compared to your actual function. For example, if your given job title was "Hearing Care Assistant," but you worked specifically as a Hearing Instrument Specialist, your job title on LinkedIn might look like "Hearing Care Assistant | Hearing Instrument Specialist (HIS)."  |
Remember that your job titles and descriptions also affect searches on LinkedIn, so stay up to date on industry terminology and the terms that appear in the descriptions of jobs for which you are applying. Matching up the wording in your job descriptions to those of real-world jobs will only aid your online job search
6. Use All the Skills
Skills are another factor that can affect how and when you appear in search results, as recruiters can use them to filter searches. Once again, be sure your skills align with those listed in prospective jobs, lest your profile be excluded in a filtered search. 
Another great function of Skills is that your connections (current or former employers, coworkers, etc.) can "endorse" your skills–essentially vouch for your talents. This can make a big difference in the interconnected professional landscape, so don't overlook this feature.
7. Update your Information
Keep your contact information updated (i.e., phone number, email, etc.) and select who can view this information in the settings/privacy area. 
You can and should be totally open in what you tell recruiters in this area. Also, you should be explicit in identifying the criteria for positions of interest while being careful not to come across as high maintenance.
To make the changes:
Go to "Settings & Privacy."
Click on "Privacy."
Click on "Job Seeking Preferences."
Go to "Let recruiters know you're open to opportunities" and hit "Change." 
Slide right to show people you are open and turn it on.
Click on the blue text below the radial that is "Update career interest"
Update Job Title, Job Type, Locations, Start Date 
Now that you are ready let's customize your LinkedIn URL.
Start by going to your profile page and clicking on the "Edit public profile & URL" located on the top right-hand side of your profile page. This will launch a new tab.
At this point, if you look to the right-hand side of your screen, under "Edit your custom URL," you should see your current LinkedIn profile page.
Click on the pen next to "Edit public profile & URL." You can type the URL you'd like LinkedIn to use in the box and click "Save" to save your changes. LinkedIn will alert you if your selected handle is not available or if you need to choose a new one.  
As we become more accustomed to viewing virtual bios, having clear and thorough social profiles, such as Linkedin, that represent professional accomplishments is paramount.
Your Linkedin bio is more than a nametag; it is your professional life story, narrated by you- details are important. 
Your story can help you appear in the right searches AND impress potential employers and recruiters once they see your bio.