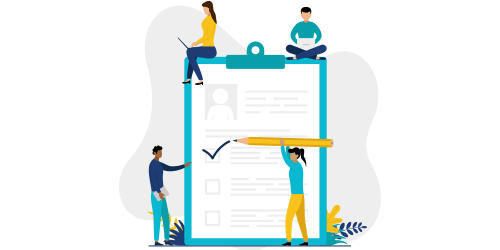 Unfortunately, it isn't always easy to find employees that are qualified to fill these roles. The strategies outlined below will help you improve your hiring strategies and find the right workers for any job.
Build a strong reputation in the healthcare industry
Both new graduates and experienced professionals want to work for companies with stellar reputations. You should demonstrate to candidates that your organization is a rewarding place to work. Aim to develop a solid employer brand.
How can you do this? There are plenty of options! You can use your website to showcase your company culture. Make a point of attending industry events and participating in community outreach. Share stories about your employees on social media.
It's simple: if you give potential employees more reasons to work for you, you'll attract higher-caliber talent.
Offer benefits and flexible scheduling
Offering a high salary is one way to encourage top talent to work for you. However, you'll also be able to make an impression by offering competitive benefits and more flexible scheduling. Healthcare is a high-stress environment, which is why many workers look for positions with flexible work options.
Job candidates also look for benefits like paid time off, dental insurance, maternity and paternity leave, and retirement plans. A strong benefits package won't just encourage top talent to work for you. It can also improve employee retention and increase loyalty.
Work to develop healthcare talent
You shouldn't just think about your hiring needs in the present; you should also think about the future. As people from the Baby Boomer generation retire, their positions will need to be filled by younger generations. If you start developing talent now, you'll be able to fill those positions with ease.
Partner with local colleges and universities so that you can hire talented graduates as soon as they complete their degrees. Work alongside professional organizations to find qualified candidates in your industry. Form relationships and develop programs so that you can build your future workforce.
Partner with a staffing agency
Finding job candidates isn't easy, especially in a competitive industry like healthcare. Hiring qualified applicants can take both time and money. You can make this process easier by working with a qualified staffing agency like Staffing Proxy.
When you work with a staffing agency, you'll be able to spend less time on recruiting and more time meeting the needs of your patients. You'll be better prepared to find qualified applicants, and Staffing Proxy even offers HR support.
Keep up with current technology
Qualified candidates have no shortage of job opportunities. If it's difficult to apply for positions, many candidates will ignore your listings and look elsewhere. You'll want your application process to be streamlined and current, and you'll need to make sure it's mobile-friendly as well.
Applicant Tracking Systems can also be an essential tool. With the right software, you'll be able to reduce paperwork and gather more accurate data on applicants. ATS software can save you time and help you find the best sources for healthcare talent.
Hiring in healthcare isn't easy, especially if you want to hire the best talent. Healthcare is a booming industry, and unfortunately, there aren't always enough workers to meet demand. Thankfully, Staffing Proxy is here to help. We'll help you find talented and qualified healthcare workers for the positions you're hiring for.