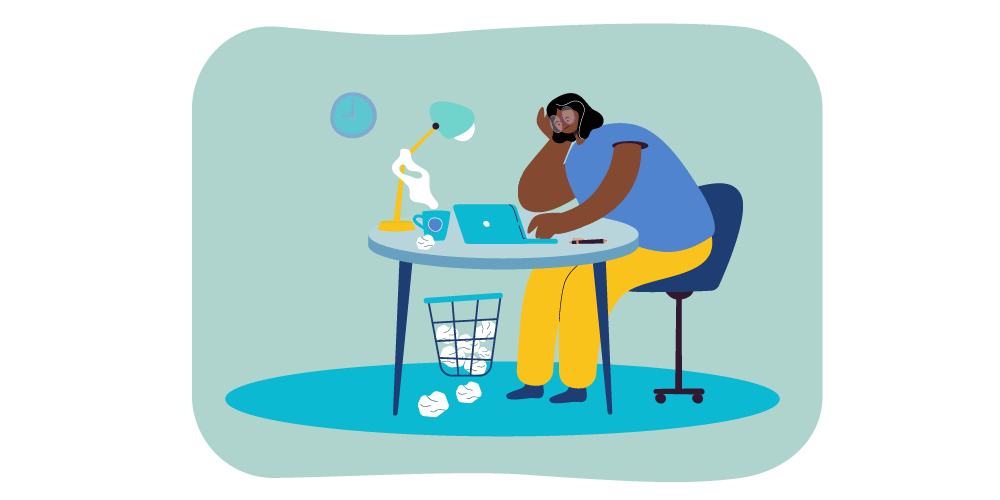 There's an Inc. article called "Why 'Don't Be Boring' Is the Best Advice for Job Seekers," which explores the idea of being an interesting job candidate. The article makes some really interesting points, so you should read it in its entirety, but the general premise is that when you're job hunting, you need to stand out rather than blend in.
As human beings, our instinct is to blend in, which means we tend to approach job hunting from the wrong angle. We'll look at resume examples and try to replicate the success of others. We'll practice the most common answers to the most common interview questions. We'll even intentionally strip our personalities out of our cover letters with the misconception that a dry cover letter is a professional-sounding one.
Obviously, there are lines you don't want to cross. If you show up to a job interview in a clown outfit, you'll certainly make an impression, but unless you're applying for a job at a circus, you're probably not going to land it dressed like that.
The trick is to stand out in the right way. You want to let some of your personality show without seeming unprofessional. That can be a tightrope walk, so we'll give you some general advice that should make it more intuitive.
Show confidence.
In every aspect of the job hunt, you need to display confidence. This is really as simple as knowing you can do something rather than thinking you might be able to do it. While you don't want to overdo it and come off as cocky, you should always be confident in yourself and your abilities.
For example, in a job interview, don't ever respond "I think I can do that" when you can instead say, "Yes, I can do that." Look your interviewer in the eye and give them a firm handshake. When you're writing a cover letter, use a confident tone.
Here's an article that's specifically about displaying confidence in a job interview, but know that this should extend to every aspect of the job hunt, from your resume to your interview to any follow-up communication you may have with someone at the company.
Stop saying boring things in job interviews.
There are entire articles dedicated to this topic already, so we'll try to be brief here and just cover the highlights. You need to stop being boring in your job interviews.
There are dozens of phrases that every job interviewer hears several times a day. In fact, we suspect that hiring managers could probably make a drinking game out of common interview phrases, or at least whip up some BINGO cards.
You should always be well-prepared before walking into an interview. However, you should also be ready to think on your feet. Instead of practicing rote answers to prepared questions, you should be ready to turn any question into a conversation. Think about how to frame things to make them sound more interesting.
So what are the most boring things you can possibly say in a job interview? There are plenty of references already, so we'll just point you to a couple of them so you can get more information. Here's a list of four boring phrases to avoid, and here's a list of ten phrases that can kill a job interview. The second link is less about boring phrases, but it's still full of good advice.
Be a storyteller.
Here's a trick that we don't see referenced a lot in job-seeker advice articles: Human beings are natural storytellers. We tend to be drawn to stories, so framing something as a story can turn it from boring to interesting.
For example, instead of saying "I spent the past three years formatting Excel sheets," instead turn it into a story. Explain what your challenge was, then walk the interviewer through your process for achieving your goal. There's a reason you're making spreadsheets; that is the part that matters. Why did you do this thing? What problem did it solve?
When you can frame things in the right way, even formatting a spreadsheet can become a compelling narrative.
Match the tone of your cover letter to that of the company.
Your resume is naturally going to be a bit rigid and templated, so it's difficult to show personality there. But your cover letter gives you a great opportunity to weave in some personal quirks.
One of the smartest things you can do is to read a lot of literature from the company you're applying to. See if you can match the tone of your cover letter to the tone of the company literature. Tone is a hard thing to get right, but the best approach is to pretend you are writing for the company instead of for yourself. Think about how someone at the company might describe you rather than how you would describe yourself. Think about the words and phrases that the company tends to use, and see if you can work some of those into your writing.
If you want more advice on writing a standout cover letter, here's an article that should help you out.
Be a more interesting person in general.
There's an interesting article on Lifehack called "9 Great Ways to Be Exceptionally Boring." It seems like a strange thing to write an article about, but it ends up being great "anti-advice," as in, doing the exact opposite of this advice will genuinely make you more interesting.
There is a lot of world to explore and experience, and the more you engage with it, the more interesting you'll be as a result. Go to art museums. Explore places you are not familiar with. Visit national parks. Learn a new language. Think about your belief system, then read literature that challenges it. Cultivate a group of friends from around the world rather than only hanging out with people who grew up in the same town as you. Read challenging books. Ask lots of questions. Don't spend so much time talking about yourself.
By expanding your horizons, you naturally become a more interesting person. And if you're a naturally interesting person in your day-to-day life, you will be perceived as an interesting person in a job interview.
We acknowledge that this last piece of advice is an entire lifestyle change rather than a simple job interview hack, but it's also something that will enrich every aspect of your life. Making your job hunt easier is just an extension of that.
Conclusion
It's possible that the advice in this article feels overwhelming. If you need some perspective, however, consider the fact that a vast majority of the people you're competing with are going to be tediously dull. You don't have to stand out that much in order to stand out at all.
When approaching the job hunt, consider ways you can differentiate yourself from the competition. See if you can imagine the blandest possible candidate, then figure out ways to contrast yourself against that imagined person. By doing so, you're putting yourself into a better position to get noticed.
And ultimately, people who get noticed are the ones who get the jobs they want.