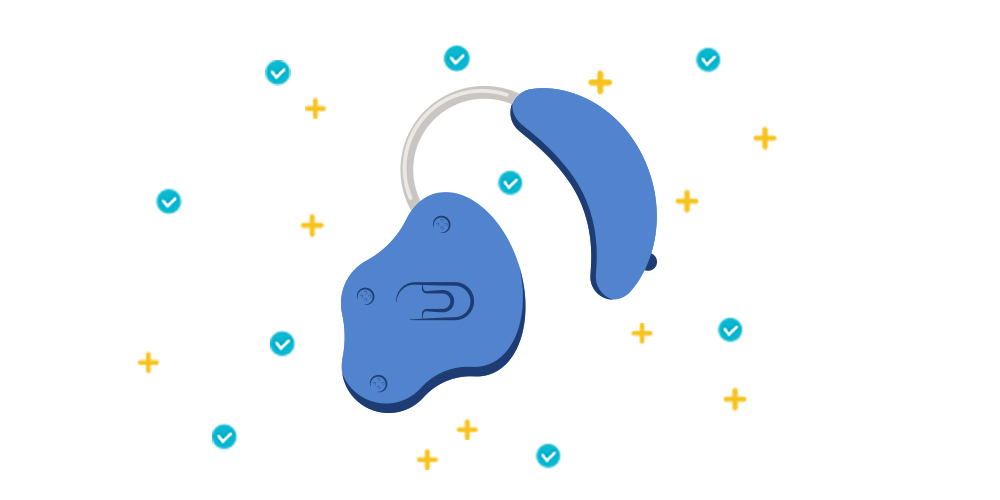 Although there are plenty of excellent devices available, the top ten hearing aids of 2020 are a step above the competition.
Empower Digital OTC Hearing Aid
This inexpensive over-the-counter hearing aid is thin and discrete. Although this device may be small in size, it's also fairly powerful, using 12-band processing to amplify frequencies associated with human speech.
The device has four different volume settings, as well as layered noise reduction setting that helps to reduce background noise. Empower also offers a risk-free 30-day money-back guarantee.
Oticon Opn S
Danish company Oticon is one of the largest brands in the hearing aid industry. Founded in 1904, Oticon products have maintained an excellent reputation for more than a decade. The Opn S is currently Oticon's flagship model.
This hearing device offers a number of appealing, user-friendly features. The patented BrainHearing technology allows the hearing device to scan a 360-degree environment, providing omnidirectional hearing. The device can also be connected to headsets, speakers, and other compatible devices.
Otofonix Encore Hearing Amplifier
This is the most powerful hearing amplifier produced by Otofonix. Designed for users with moderate to severe hearing loss, it's able to amplify sounds by up to 53 db. It features both front and rear microphones, allowing users to detect where sounds are coming from with a high level of accuracy.
The device is small enough to discreetly be hidden behind the ear. It includes multiple sound tubes, ensuring a comfortable fit. Otofonix also has stellar customer report, with specialists on hand to answer questions about devices.
Phonak Lyric
The Lyric is an unusual hearing aid that's designed to be implanted into the ear canal. Once installed, the device is completely invisible. Although the device will periodically need to be charged by a specialist, it has an extremely long battery life. This device is ideal for users with moderate to severe hearing loss. Once the device is installed, it won't need to be removed or adjusted. It offers a level of independence standard hearing devices can't provide.
BLJ Digital OTC Hearing Aid
This tiny red hearing aid is constructed from medical-grade silicone. It has eight volume settings and can easily be adjusted with your fingertips. Because this device is so small, it may not be ideal for users with larger fingers.
The device is designed to be inserted into the ear canal and is nearly impossible to detect once it's in place. The device comes with two different ear domes, allowing users to find the perfect fit.
Signia Styletto Connect
With roots dating back to 1878, Signia is one of the oldest hearing aid companies in the world. Although the brand offers a wide range of products, the Styletto Connect is cut above the rest. It's a stylish hearing aid that's loaded with features, including Bluetooth connectivity, portable charging, and even its own app.
Of course, this device has more to offer than style and features. It's an incredibly effective hearing aid that provides a more natural sound than other devices on the market. The device is suitable for those with mild to moderate hearing loss.
FILL Digital OTC Hearing Aid
Good things can come in small packages. This is a small and light hearing aid with a weight of just 0.1 pounds. The device also uses nano-coating technology that's resistant to dust and sweat, which means it's easy to keep clean.
Although this device isn't large in size, it can provide a significant hearing boost. It also utilizes noise reduction technology, reducing feedback and allowing users to clearly hear the sounds around them.
ReSound LiNX Quattro 9
The Quattro 9 offers virtually every feature you could want in a hearing aid, from noise tracking to directional mixing to a rechargeable battery. ReSound frequently updates its devices and has announced that the LiNX Quattro 9 will have Android connectivity by November, 2020. The device can already be connected to iPhones and Smart TVs.
This is a small hearing device that provides exceptional sound quality. It offers a number of customization options, allowing users to tailor their hearing experience.
Sound World Solutions Sidekick
Although these single or dual hearing aids aren't especially discreet, they're an incredibly effective product. The aids offer numerous sound filtering options, making them ideal for everyday use. The device is equipped with rechargeable Li-Ion batteries, which provide up to 15 hours of use per charge.
This is an affordable hearing device, but it still offers a number of premium features, such as Bluetooth functionality. Sound World Solutions also offers its own customizer app, allowing users to easily adjust the performance of their hearing aids.
Eargo Plus
This easy-to-use device was specifically created for people new to using hearing aids. This is a comfortable and discreet hearing aid that is placed directly in the ear canal. Features like cyclable sound profiles make it easy to find the perfect hearing aid settings no matter where you are.
The device also offers dynamic feedback reduction and active noise cancellation while still providing an impressive boost in hearing. Eargo's hearing aids are rechargeable and can easily be worn all day long.
Living with a hearing impairment can be difficult. However, the top hearing aids of 2020 can help anyone who's suffering from hearing loss. From state-of-the-art hearing solutions to affordable over-the-counter devices, there are great options for anyone who needs a hearing aid.