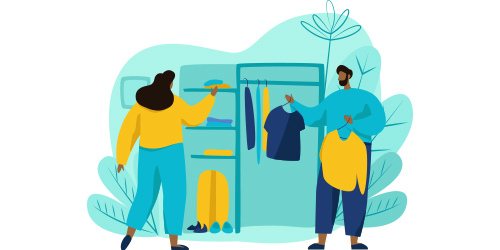 If you present yourself appropriately, you'll impress the interviewer and increase your chances of getting hired.
Interview attire for women
Women should wear clothing that's dressy, but not overly formal. A suit is appropriate for a healthcare interview, but it isn't a necessity. A blouse with dress slacks or pencil skirt is a great option, as is a statement dress with a blazer.
Stick to neutral tones if possible, like white, black, and navy. Bright colors and loud prints can be distracting in an interview setting. Even if you love stilettos, you'll want to avoid ultra-high heels. It's best to wear simple pumps or flats for a healthcare interview.
Interview attire for men
A basic, properly-fitted suit is perfect for a job interview. Thankfully, if you don't have a suit in your wardrobe, you can still put together a professional interview outfit. Try wearing a button-up shirt with slacks, a belt, and a pair of dress shoes. Colors like gray, light blue, and navy are perfect for interview attire.
Wearing a tie to an interview can be smart, but you'll want to be careful about the tie you choose. It's fine to use a tie to add a pop of color to your outfit, but you should avoid loud statement ties or ties with novelty prints. Make sure you iron or steam your clothing before your interview. Wrinkled clothing will make you look sloppy and unprofessional.
Dressing for a working interview
In some cases, prospective employers may call you in for a working interview. At an interview like this, you'll be shadowing a staff member and completing various tasks. In a situation like this, scrubs may actually be acceptable. You'll want to dress the same way you would on the job.
Do some basic research and find out how employees at this facility typically dress. Make sure you follow the company dress code to the letter. You should also wear comfortable shoes; you can expect to be on your feet for the entire interview.
Styling and accessorizing
Accessorizing can pull an outfit together and make you look more polished. That said, you won't want to wear too many accessories to a healthcare interview. Many employers have strict rules about wearing jewelry on the job. A modest pair of earrings should be fine, but oversized earrings or long necklaces could make you look unprofessional.
Women with long hair should make a point of putting their hair up or wearing it in a ponytail during the interview, while men should keep their hair slicked back. Think about how you'd normally style your hair when you're working. Wear a neat and simple hairstyle that would be appropriate on the job.
Dress to impress!
Whether you're preparing for a healthcare job interview or attending a professional event, you'll want to look your best when meeting with prospective employers. If you're hoping to line up a job interview, take a look at the Staffing Proxy job board. You'll find plenty of excellent opportunities for qualified healthcare workers.