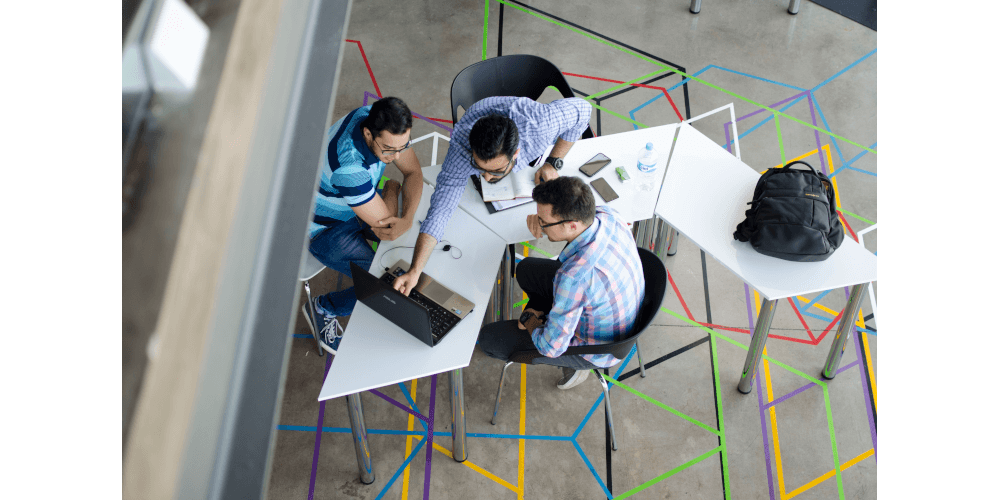 Five Tips to Fast Track Your Job Hunt
Job hunting can be stressful, and the job-seeking process can be glacially slow. If you need a job ASAP, the slow pace of the hunt can be frustrating, and if you're not prepared for a long wait, the downtime can become a burden financially. When it comes to job hunting, sometimes you need a bit of a speed boost.
Take a deep breath and know that Staffing Proxy has your back. We've compiled five simple tips that will speed the job-seeking process along.
Focus on networking early
If you have a solid and robust professional network, your job hunt will be easier, more rewarding, and faster. Building this network is something you'll want to focus on as soon as possible.
Still in college? Start attending career events, meet-and-greets, and conferences related to your field. Even if you go for no other reason than to meet new people who share interests with you, these opportunities are fantastic and shouldn't be missed.
Just graduated? Keep in contact with your instructors and see if they'll refer you to anyone. If you worked hard to show that you were an excellent student, most instructors would be happy to make recommendations.
Looking for work now? It's never too late to start networking. Make sure you're aware of any job fairs that are happening in your area, even ones that seem like they have nothing to do with your chosen career field. You never know who you're going to meet, and you will probably be surprised at the people who end up being your most valuable resources career-wise. It's quite often the people you least expect who help you out the most.
Ask your friends if they know of any job openings
It never hurts to talk to your friends to see if they know of any open positions, or positions that will be opening soon. If you've been following the advice in the previous tip, you should have a strong network of people you can talk to. Ask them if their current employer is hiring, or if they know anyone who's looking to hire.
Keep in mind that a majority of hiring happens through the people you already know. A LinkedIn survey that we've referenced a couple times before claims that 85% of jobs are filled via networking. Plus, when you're getting referred to a position through someone who knows you and can vouch for you, the hiring process tends to move a lot more quickly.
Someone who you already know might hold the keys to your future. All you have to do is ask.
Make sure you have the best resume possible
Having an outstanding resume can put you at the top of a potential employer's list. If your resume is truly impressive, you'll get more responses and you'll get them faster. If you can get the hiring manager excited about meeting you, they will try to get you in for an interview as soon as they can so they don't lose you to another company. On the flipside, if you have a mediocre resume, it might get shuffled to the bottom of the pile, dragging out the process.
So how do you make sure you have a great resume?
We've provided tons of advice for crafting effective resumes in the past, so rather than reiterate all if it here, we'll simply share links to these valuable resources:
Once you feel ready to submit your resume, let someone you know look at it and give you honest feedback. Of course, you have to be able to trust the person to be critical; some people will just tell you it looks lovely as a compliment. Those people are very nice, surely, but they aren't going to help you produce a stunning resume. You need to find someone who can point out the flaws so you're prepared to fix them.
Take advantage of social media
You're probably already on LinkedIn. If not, stop reading this and go make a profile. We promise, this article will still be here when you're done. Additionally, having a resume up on sites like Monster, Jobster, and Indeed can only be a boon to your career.
Aside from the obvious, you should be active on several social media platforms. Many companies will announce job openings on their Facebook or Twitter pages. Follow as many relevant companies as you can think of, even if it means making a separate career-focused account.
On Twitter, you should check in regularly. Do a search for related hashtags, such as #NowHiring or #HelpWanted. Remember, Twitter will let you filter your search by location, so you can find results that are relevant to your geographical area.
In the digital world, you need a digital career strategy. Leverage social media to make connections and find opportunities you would otherwise miss.
Contact a staffing agency
It is hard to overstate the importance of contacting a staffing agency like Staffing Proxy, especially if you're trying to get hired fast. A staffing agency has resources for matching job seekers with careers; it's what they do.
Not convinced? Check out our article about what a staffing agency can do for you. If you've never found work through an agency before, you might be surprised by how effective they can be at matching you with the perfect job.
If you're looking for work in hearing healthcare specifically, contact Staffing Proxy today to see what we can do for you.